CM200 Radio
Motorola is a company of firsts with a rich heritage of innovation. We continue to invent what's next—connecting people, delivering mobility and making technology personal. Whether you need to connect with one, one dozen or one hundred people, the CM Series of two-way radios help keep you and your team working efficiently over voice or data channels. So when you select one of these two-way radios, you will experience the same exceptional quality you have come to expect from all Motorola products.
Great care was taken in the design process of the CM200™ to ensure ruggedness and reliability, ease of use and functionality. Some things you'll notice about Motorola's CM mobiles: They feature large controls that are easy to grip or press even when wearing gloves. The powerful 4-watt speaker is forward-facing (instead of on top of the radio) for superior clarity.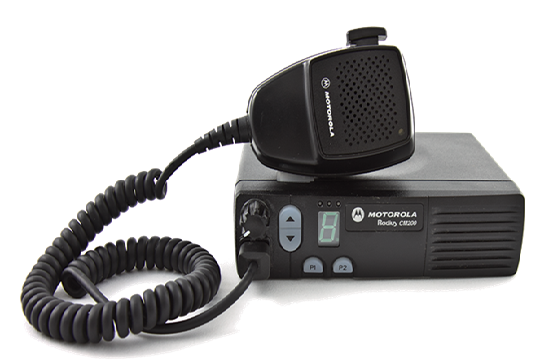 Three colors LED indicators (red, yellow, green) show visible feedback of transmit, scan and monitor status. The microphone and controls are located on the left, closest to driver for easy reach and bright visual indicators can be read at a glance. Both features that help drivers keep their eyes on the road.
The CM200 is a basic cost-effective solution and features a numeric display, 4 channels and 2 programmable buttons. Everything that goes in or on a Motorola radio is carefully considered, . reviewed, designed, reviewed again and manufactured to extremely high-quality standards and these radios really show it